Window Corporation, manufacturer of uPVC and Aluminium windows and doors with the aesthetic appearance matching the interior designs. We're dedicated to providing you the very best of uPVC and Premium Aluminium Products.
Founded in 2005 by Mr.Natarajan, Window Corporation has come a long way from its beginnings in Bangalore. When Mr.Natarajan first started out, his passion for "Invention, Engineering & Quality" drove them to start their own business.
Our team is highly qualified and passionate about making Doors and Windows, with over 15+ years of experience. The Window & Door Makers work closely with the Clients to bring out a custom-designed Door/Window that meets your specific design criteria.
Your home will not just look good, it will function well, and provide a beautiful, seemless function to you and your family for years to come. We work closely with all the architects/end-clients to ensure that our clients are happy with the final project. 
Vision & Mission
Window Corporation visions to serve the ever-evolving crave for best products and designs in the Home needs of Windows and Doors. We strive to showcase the excellence in World-class uPVC moulded Windows and Doors designed and manufactured by international repute.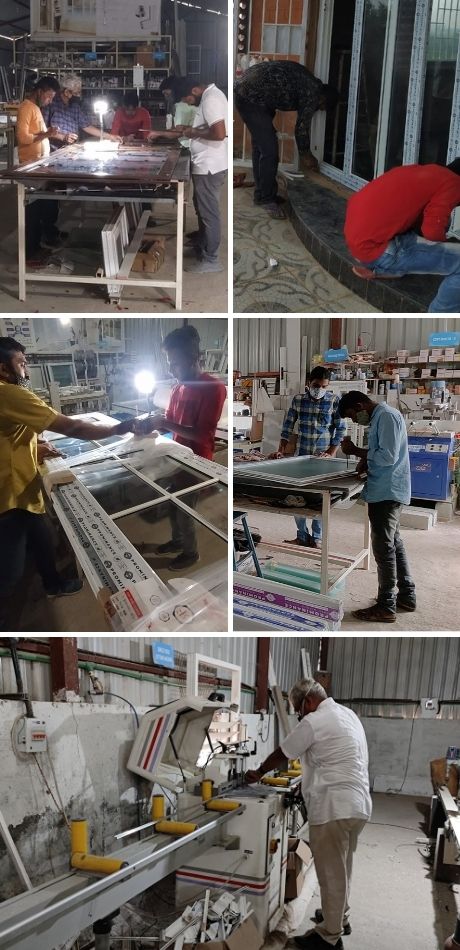 We hope you enjoy our products as much as we enjoy offering them to you.
If you have any questions or comments, please feel free to click below and contact us
Numbers Speak for Themselves
Wo look forward to working with you! We are passionate about Making Windows and Doors!
We create our work on a consistent, clean and neat way.
Our passion for Windows and Doors is a reflection of the quality of our craftsmanship and the quality of our materials. We believe that our customers deserve the best quality and value, and we're dedicated to supporting them. As a result, we strive to do our best to keep materials in line with the goals of sustainability. The biggest part of our business is our employees: our customers, our staff, and our shareholders. We're passionate about sustainable design, and we believe that people should feel like they're part of the process when they make something.
Take a Factory Tour! Factory tours are one of the most important activities we undertake.
If you're a customer, a Builder or an Architect, this tour will provide a way to understand how products come together. With face to face conversations with experts, witnessing the manufacturing process & final quality checks, provides you with an intimate hands-on knowledge of how we craft our Windows & Doors and get to touch and feel the final product.